Name:
Rylan Kura
Epithet:
The Prodigy
Age:
18
Gender:
Male
Race:
Human
Sexuality:
Straight
Affiliation:
Pirate
Occupation:
Scientist
Appearance: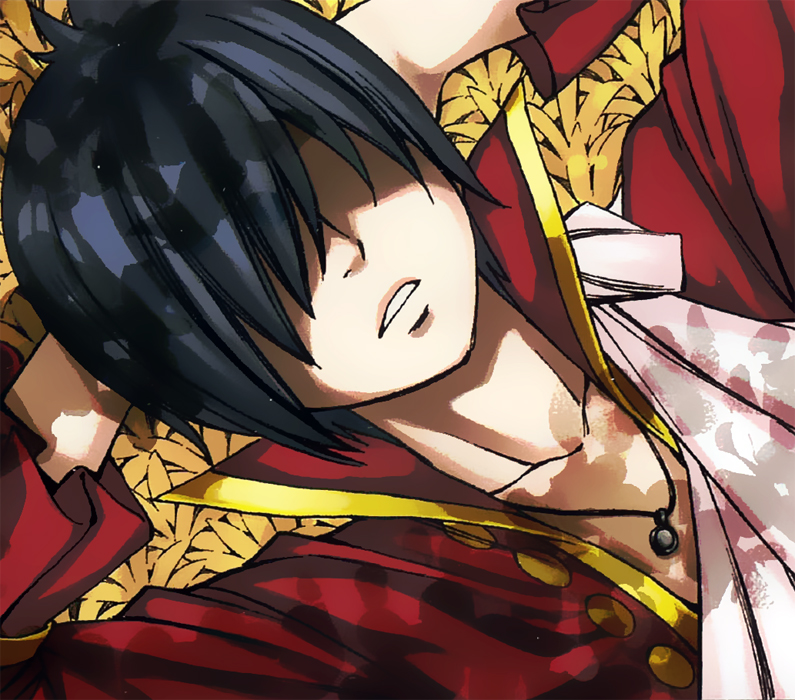 Rylan has short black hair that run a little bit over his eyes, when he's sad or something like that his hair usually covers his eyes so he doesn't reveal what emotion he's having now. His eyes are black colored but when he's angry his eyes can go scarlet. The reason his eyes change is because he is possed.Rylan usually wears a red cloak with on top of it a white toga, he wears those clothes because he thinks it is him comfortable. When he is going in an all out battle he might throw away his toga so he can fight better/ be more flexible. He also has black pants and red shoes.
Hair Color:
Black
Skin Tone:
White
Height:
181 CM
Weight:
80 KG
Personality:
Rylan is a kind man, he's nice to almost everyone. He tries to help as many people as he can, unless you're a pirate. If you are a pirate and reveal your identity to him he'll most likely try to kick your ass. That's only if he knows he's able to beat you, if he can't he'll most likely wait for a good opportunity to strike at you. Even though he's kind to almost everyone, that doesn't necessarily mean that he acknowledge your existence. The only people he acknowledge their existence are people who are strong, he loves strong people. Those are the only people who can see him being the real him, when he encounters a strong opponent that pushes him back he'll mostly likely switch personalities like that. He becomes a lot more wilder and is more like a sadist now. He'll try to hurt his opponent as much as possible before killing him off. He tries to keep that down, but when he faces a strong opponent he can't help it.
When he's cornered, his eyes will turn scarlet, the color of despair. He'll hear a voice calling out for him, an evil voice, telling to let him take over. That's the moment he is not himself, his voice gets deeper and the color on his eyes is much darker than when he's angry. The real reason for this is because he is possessed by Satan, he uses Rylan to eventually free him from the island he is stuck too.
Likes:
- Peace
- Arresting evil pirates
- Having a good fight
Dislikes:
- Having to kill innocent people
- Evil pirates, the one that don't care about other people's life
- Corrupted people in the marine.
Motivations:
As long there are pirates sailing the sea, he won't give up catching them. And another goal is to become an Admiral.
Fears:
-That he won't be able to protect the lives of innocent people.
- Being outclassed by pirates
- And not being able to fulfill his goal.
Behavior/Habits:
Rylan is most of the time quiet and likes to relax if he's not helping people. Just like anyone else he has a weird habit, his habit is to bite of a tiny bit of his skin on the inside of his mouth. And sometimes he does it without holding back which causes his mouth to bleed from the inside. He then licks it up and swallows the blood, he believes it's because of his sadist personality he picked that up. He's lucky that it doesn't draw attention when he's doing that or it is hard to spot when he's biting the inside of his mouth.
History:
Rylan comes from a normal family, that consisted of a loving mother, a hardworking father and a lovely sister who was rarely mean to him. It was the 'perfect' family. When Rylan was only 8 years old, his family was attacked by pirates. By the look of them, the didn't have much, they had some ripped clothes and a rusty dagger. They threatened to kill Rylan's family if they didn't pay them money, the amount of money they were asking was unreasonable. They were probably drunk, Rylan's father tried calming them down and talk their way out of it but it was a futile effort.
The pirates got impatient and stabbed their father, in front of his own eyes Rylan's father had passed away. After he dropped dead, their mother tried to fend them off, and told them to run away and live their life. Rylan's sister grabbed Rylan's hand and made a run for it. Just when they thought they were save, the pirates found them. Just right when they were about to kill them, the marine came and rescued them. They arrested the pirates and made them look like scum, that's what they were. Scum. Since that moment he admired the marines and wanted to become one himself. Rylan and his sister went their separate ways, and without looking back they set foot to their new goal.
Since he joined the marines, a lot of people said they knew his mother, but I didn't resemble like her. A dark night, a stormy night that's when the Fleet Admiral called Rylan in, he asked if he knew why he didn't look like his mother. He said he didn't, that's when he was told that his father was not his real father. And that his mother sold the soul of Satan the soul of her first born son, it was done because Rylan was sick when he was little. He wouldn't make it, but his mother was seduced into selling his soul for a better health. He also explained that Rylan should never give in his evil side, or the marine wouldn't hesitate to kill him. The reason why he never could swim was because he was already born with a devil fruit.. The Goro Goro no mi, that's why he never could eat them, and his powers only awakened recently.
Becoming a pirate:
While he was at the marine, he noticed that most things were corrupt there. He didn't want to stay there much longer as he started to loose control. The evil personality started taking over more frequently, he assumed it was due the evil things the marine was doing that boiled up his blood. That's when he decided he wanted to leave the marine and join the pirate's life, to be free and not hold back.
Last edited by Rylan on Sat Jul 19, 2014 4:39 pm; edited 5 times in total