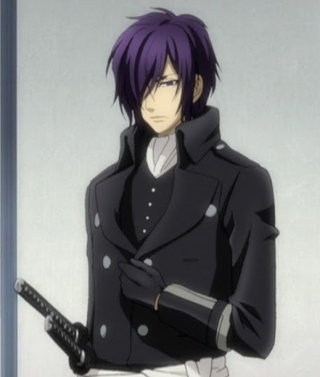 Name:
Alexander D. Law
Epithet:
Black Fox
Age:
28
Gender:
Male
Race:
Human
Sexuality:
Straight
Affiliation:
Marine
Occupation:
Weapon Master
Appearance:
Alexander Blackwill, like many people in his lineage, is very handsome and elegant. He is very tall and has has long indigo hair that hides the right side of his face and is loosely tied into a side ponytail. He possesses sharp, yet relaxed bright ocean blue eyes and a very cheerful smile. He usually dress with black coats and pants, sometimes wearing the Marine's coat over his black attires.
Hair Color:
Purple
Skin Tone:
Medium skin with yellow golden undertone
Height:
190 cm
Weight:
75 kg
Personality:
When describing Alex from a personality point of view he is calm, serious, strong-minded and somehow playful, he enjoys the concept of "playing with the enemy". He is rather calm and calculated on most things, having high tactical prowess to match his exemplerary combat skills. Alex is rather laid back all together, and can easily make conversation with anyone. He has no problem with making conversation with enemies outside of the battlefield, just for the sake of conversation. He also is very flirtatious with women.
As stated before Alex is a very playful person. In combat he loves to play mind games with his opponent, believing that "mentality is half of the battle". Against multiple weaker opponets, Alex enjoys tauting them, with no regard for their dignity. Alex even if he loves to play mind games, he is still bloodlust in battle and would kill the ones who don't deserve to live. Yet, in spite of these things, Alex is very trustworthy and loyal to World Governement.
Likes:


Game of Chess ;

Swords ;

Good Pirates ;

Drinking.

Dislikes:


Sleeping too much ;

Stupidity ;

Unrespectful members of the Marine.

Motivations:


Becoming a Gorosei ;

Revamping the whole World Government into a better one ;

Kill all evil pirates ;

Fears:


Arachnophobia - Fear of Spiders.

Atychiphobia - Fear of failure.

Autophobia - Fear of being by oneself without family,friends,etc.

Behavior/Habits:


The worst habit of Alexander is that he drinks way too much. He likes to carry with him a flask in which he has either rum or whiskey. He never gets too drunk, but he still gets a little dizzy. He usually drinks before important events and after them. He has a pretty bad history when it comes in terms of drinking. The reason behind his habit is that he was so mad on his father's actions that he started to drink in order to kill the pain in his heart. Altough at first he was drinking from time to time, it became a true and bad habit over the time. ;

Another habit of Alex would be that when he face the stupidity of other people he laughts in his mind, but facepalms really hard in real life. Whenever he would meet someone with wrong knowledge Alex would just give himself a facepalm. A pretty funny and strange habit, isn't it?

History:
Alex was born in Loguetown almost like an outcast in the family. He was different. Most could say he was almost an illegitimate child. However, that was not true and it was false accusations, as showed the blood testing of Alex. Whilst he was a child, his family was always picked on inside the family, as usually he was different from the rest. In the way he looked that is and dependent on other circumstances such as his hair. As an infant, he was harassed the most in Eart Blue Academy and in various other places. Just because the family thought that they had done some sort of thing that was wrong, such as adultery and things like that with the mother. When it was just how Alex had come out to be, not noticing any genetic factors involved in such cases. It was odd; however Alex was something else, even as an infant, his family was harassed because of him. Though, as Alex was only 3 months old, and the harassment had continued from the family and other people from North Blue, Alex's father could not take it, and in rage, he killed North Blue citizens. Though, it was not as a family character, much like a cloaked figure in the night. However, after some time he was caught for doing it, there was no trial as he did not want to dishonor his family and his family as a whole and he was immediately sentenced to death. He was captured by the marine of North Blue after just one killing. So the dishonor was lessened a bit from this as it was not as so great to let everyone know who it was or what he had done to that extent. His mother and family were devastated by the killing of one of their relatives. It meant that they were vulnerable to attack from people and they were probably under heavy surveillance at that point.
One did not expect someone such as Alex trying to get into the marine quarters in East Blue or even trying to apply there. It was as they say too much history that could not be ignored. It was sad thing that they thought that way because Alex wanted to follow in his uncle's footsteps and become a Marine as he once did. He wanted to do what was right even at the young age of 10, as a result he could not bear that he could not go to the marine quarters in East Blue. It was in fact his uncle who encouraged him to go even if he had bad dealings in the past with the higher ups of the marine organization. As a result he was pushed farther and harder than any child that was ever sent to the marine quarters in East Blue. It was a learning experience of course there were many things that even a child did not learn but he learned a lot mostly from his uncle and some of his uncle's friends who acted like mentors to him at a certain point in his life. At only 10 years of age he showed quite a bit of promise as a marine. He would not like be his uncle some grunt or some other, he would be destined for great things. He wanted to deal justice from a very young age, even though his concept of justice was eschewed he knew nothing else but that. As his studies progressed people realized that Alex was more than just a pretty boy; not a grunt of any kind but he had the potential to be a military leader to men that could come together. He was quick witted and his memory was a bit lacking but he was intelligent, and perhaps a more important quality wise enough to make the right decisions when it came to practicals that his uncle gave. As a marine Alex had no real ambitions at a young age except for trying to become a better person so he could be accepted as a marine. However that changed when he grew older and perhaps more wiser than when he was only ten.
After another 10 years Alex was ready to be out there and capable strong man. He had done many things in his life that were not illegal but would be looked down upon in the marine core. His view of the world was still the same so that was saying something; having ideals of a child at such an age, but he had a better view of justice. He knew that justice was something that was not given easily but could be taken easily enough. Justice was something to him that meant doing the right thing whenever the time asked for it; even if it meant his death. As a marine he always knew he was going to fight, but he pursued other things that were not that recommended of a marine to pursue. His passion became knowing things that many people did not, he wanted to become a scholar in history. He wanted to know things that were forgotten with time and age but it was a fools dream until he was of a much higher rank. Just before hitting his 21st birthday he became a marine, a very old age but he had more experience than the rest of the petty officers who were above him which was sad and disheartening. At the same time however it was his turn to learn how to be a marine; to sail the great blue oceans of the world and to create order justice and peace for the right to stay alive. It was only his beginning.
Face Claim:
Saitou Hajime from
Hakuōki Shinsengumi
Last edited by Alexander Law on Mon Apr 28, 2014 9:51 am; edited 2 times in total