Name:
Akiko D. Strider
Epithet:
The Dark Champion
Age:
42
Gender:
Male
Race:
Human (though he has a prosthetic limbs he is not a cyborg)
Sexuality:
Straight
Affiliation:
Revolutionary
Occupation:
Fighter
Appearance: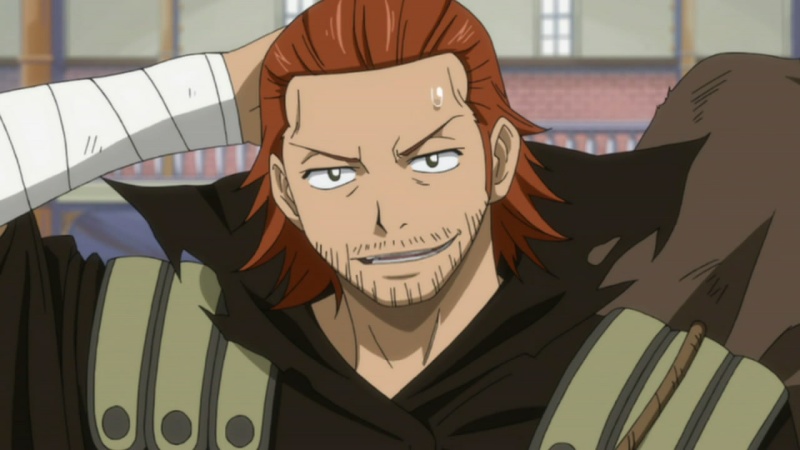 Strider is a tall, muscular man with shoulder-length orange hair (usually kept slicked back) and a stubbly beard. His heavily muscular body is without a left arm and left leg, which he initially replaces with rudimentary wooden prosthetics, completed with an armoured knee-guard to function as the knee joint, which are armour-like prosthetic limbs. His chest sports scars, two of which are stitched, and the majority of his torso is bandaged, as is his right forearm and left shoulder.
Strider's attire is rather simple; he wears a long, black, high-collared and tattered cloak with shoulder plates; around his waist is a simple belt. Strider also wear loose-fitting dark pants, complete with an armoured waist-guard bearing plates similar to the ones on his shoulders, tucked inside simple boots.
Hair Color:
orange
Skin Tone:
lightly tanned
Height:
6'7"
Weight:
220 lbs
Personality:
Strider is a laid-back, kind and easy going person who has great interest and the utmost faith in the new generation of pirates and revolutionaries. He is rather oblivious, and doesn't pay much attention to his surroundings. He also has a tendency to break through walls with his Ryūshi-Ryūshi no mi powers in order to pass, rather than simply using a door. Strider is, as pointed out by himself, rather bad at holding back during a fight, though he fights in a particular way, so as to prevent human casualties. He also respects his opponents and takes his opponents neither too lightly nor holds them in too high a regard. Strider also won't refuse an offered challenge, though if something more important arises, he may postpone said event.
Strider appears to be somewhat of a lone wolf and in addition a womanizer, having been with at least 24 women since leaving his now-deceased wife behind him trying move on with his life. He only became a womanizer to help ease the pain he still feels over the death of his wife.
Likes:
-His children: though he doesn't go near his children fearing for their safety, he still sees them as his pride and joy. If he would be able to help them he would.
-The Revolution: He now believes that the world government and marines are truly corrupt and that the people need to take the power back from them.
-A good fight: He enjoys being able to have a good fight with someone as he tends to go all out releasing all his bottled up stress and emotions.
Dislikes:
-The world government/Marines: He now believes that the world government and marines are truly corrupt and that the people need to take the power back from them.
-His Brother: He can no longer trust his brother Kurosawa Ryu as even after all Strider has been through Ryu still chooses to follow and if need be give up his life and kill Strider for the cause of the World Government/Marines.
-Disrespect: If someone ever disrespected or insulted his, dead wife, children or the revolution let's just say they will be waking up in a body bag or a hospital.
Motivations:
-A New World: He wishes to see the new world the Revolution will bring.
-Seeing his children's dreams come true: pretty much what it says on the tin.
-His Children: the idea of one day being able to see them safely keeps him going everyday.
Fears:
-Death: This not fear of him dying but of his children and other family members dying.
-Failure: He fears hat will happen is the revolution fails.
-Revenge: He fears that one day his desire for revenge on the world government will consume him turning him into something he is not.
Behaviour/Habits:
Strider tends to walk through walls with his Ryūshi-Ryūshi no mi powers in order to pass, rather than simply using a door, showing he his rather lazy when it comes to controlling his powers outside of battle as he is able to keep them in check but chooses not to. Like his son he acts and makes roughly about sixty seven per cent of his choices purely on his instinct and when somebody tries to explain something he doesn't understand to him, he will instantly call a mystery. He will almost constantly smiles or smirks regardless of the situation he is in unless it has something to do with someone he cares about being in danger.
History:
Strider was the biological father of Akio D. Jack, Fūjin, Diana and lover to Akiko D. Akemi. He is the youngest brother to Kurosawa Ryu and Dionysus Kurosawa. He joined the navy once of age following in the foot steps of his brothers before himself, he quickly excelled in hand to hand combat under the teachings of Akio D. King and became one of the main fighters of the Marines and it was rumoured that he rejected the offer to join a CP unit like his brother Ryu was.
He later gained his own ship at the rank of a Rear Admiral, thus began his numerous run-ins with the notorious "Venus of the Seas" Akio D. Akemi, they grew to respect each other during their numerous battle which flourished into something more, they then began to meet in secret when Strider was off duty. when Akemi became one of the seven Shichibukai he volunteered to be the Navy's personal watchdog on Akemi what lead to them traveling together and her and her crew "giving him the slip" every now and then on his travels with her he even found the Ryūshi-Ryūshi no mi. He began to doubt the law when he was reunited with his brother Ryu when their paths crossed as he witnessed his brother killing a bystander who had saw Ryu do something in the name of justice. Akemi was sentenced to death after Ryu turned her in as a traitor to the world. Strider and his crew raided the execution killing and wounding hundreds of marine soldiers in the process while at the same time losing his right arm.
He later joined the Revolutionary army after discovering that Akio D. King, mentor and father to his lover and grandfather to his children that he had with Akemi had joined. The eldest son Jack stayed with Dionysus who had left the Marines a year after joining them and became a pirate, King brought Diana to his last remaining daughter Tenshi who brought her too Amazon Lily and lastly he brought the new born Fūjin to The "Holy Amethyst" William D Snow to be raised as a marine. Now a days Strider has changed his sure name to Akio in memory of the love he lost, and King bestowed the title D. in his name for his efforts at Akemi's execution.