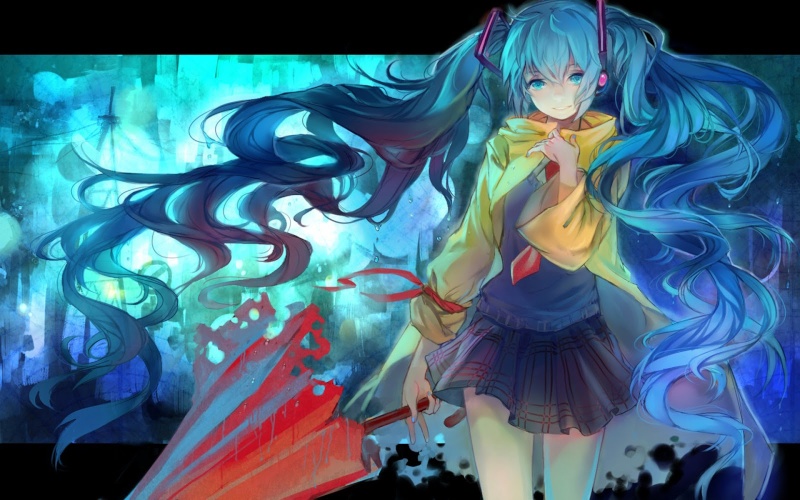 Name:
Z. Z.  (Zerina Zayne )
Epithet:
"Rainbow Reaper" Z.Z
Age:
20
Gender:
Female
Race:
Human
Sexuality:
Lesbian/Bi Sexual
Affiliation:
Revolutionary
Occupation:
Navigator
Appearance:
She has multicolored rainbow hair that is often worn in a ponytail. Her Long hair reaches midway down the thigh and is seen often levitating in the air. she has bright, sky blue eyes that can pierce the souls of those who make direct contact however her eye color can change because of her Devilfruit Ability. Her attire is that of a girly girl because she enjoys dressing up all fancy. She is often wearing a skirt that reaches mid thigh which shows off her smooth legs or she wears a colorful, classy kimono. She has a devilfruit which gives her the ability of color; Which she often changes the color of her lips, giving the appearance of lipstick. She always carries around an umbrella and twirls it on the shoulders as she walks.
Hair Color:
Changes at will. literally a rainbow of colors.
Skin Tone:
light
Height:
5'4"
Weight:
120lb
Personality:
She loves being at the center of attention because of her beauty and loves to flirt with everyone and anyone, including Kids of both genders. She never drinks Alcohol but likes to sit at the bars and talk to the many people around her. Zerina is always outgoing and never shy when it comes to singing and dancing, In fact she is always the center of attention because of her girly pop star voice. no one ever suspects that she is a revolutionary or a killer and She never reveals her true nature until the precise opportune moment Where she can then kill her target. Despite Her Devil-like nature she is kind to everyone that is kind to her but is often questioning who to trust. she is also emotionally attached to her collection of umbrellas which reminds her of her mother. she is never without her umbrella and loves to use it as a cane at times.  
Likes:
-Loves the Rain and will always seek to be in it.
-Loves Rainbows and Bright skies.
-Loves every color and will always say rainbow as her favorite.
-Loves Fruit; Strawberry is Zerina's favorite
Dislikes:
-Celestial Beings and Any sort of Noble.
-People that look french.
-Pollution and other toxic wastes.
-Men that disrespect women.
Motivations:
-she wants to change the world by Killing world government leaders and other public figures and strives to do so at any opportunity.
-hunts men who disrespect and harm women and uses it as a motivation to move forward in life.
Fears:
-Being betrayed, Its the reason she mostly does things alone.
-Giant Spiders: In her worst nightmares a giant spider always eats her.
-Drowning in the ocean; since she has a devilfruit the ocean is her enemy.
Behavior/Habits:
Z.Z Is cheerful mostly all the time even when slaying someone in cold blood. she smiles at everyone, in fact There is almost always a slight, cute smile on her face. she has a bad habit of leading men and women on in order to have her way with them. Z.Z. almost always spares Women but slaughters men when she is done. she respects women to much to kill them but that definitely wont stop her from slitting their throats if she has to. she has a habit of walking in the rain even though it is her enemy and will travel great distances in order to be in the lovely Rainfall. she always has a fancy, colorful umbrella which she spins around on her shoulders.
History:
Zerina Zayne grew up with her Parents on a small island that was populated with Okama. Everyday was a joy on that island and Z.Z. always enjoyed the many people that filled it. however, one day when she was about 8 years old the world government ordered a full attack on the island in order to wipe it from the face of the planet. Z.Z. and a few others escaped before it was to late but the rest of the many Okama who lived peacefully on the island were killed. Z.Z. remembered crying for the extreme loss she had suffered and thus began her journey as a revolutionary. she began to train in the Umbrella Arts, a One sword style that used an umbrella to attack but soon after she began her training on top of a Dashing Mountain she was cursed. The young looking girl spotted a Large strawberry that grew from a nearby tree. she was very curious about the Fruit and since it looked like a giant strawberry she decided to try it. She bit quickly into the fruit and examined the insides as she swallowed the bits. she coughed from the bad taste and noticed what she had just eaten. Her eyes opened wide as the rest of the fruit's insides glowed like a powerful rainbow. She had eaten a Devilfruit; However it did not bother her at all. Z.Z. simply continued to eat the rest of the horrible tasting fruit.
Last edited by Rainbow Rain on Thu Jan 23, 2014 10:13 pm; edited 2 times in total