Equipment Name:
Ember Cecila
Equipment Level:
1
Equipment Type: Dual ranged shot gauntlets
Equipment Ammunition: The shells initially inside are red and orange. Inside there are chambers that holster a magazine consisting of 12 shells, giving 24 shots in total when both gauntlets are fully loaded.
She carries 144 shells on her at all times. Meaning she has 6 reloads. 3 for each gauntlet.
The gun shoots incendiary rounds.
You can see what the bullet looks like in this picture.:
Equipment Description:
 The Ember Celia are black gloves that the user wears. They have a yellow contraption on top that, when activated, cover the users hands as gauntlets. The gauntlets have little capsules inside of them that contain gun powder. When the gauntlets hit something, the gun powder goes off in the knuckle parts of the gloves that creates a more devastating impact.
Equipment Significance:
These gauntlets mean a lot to her because they were used to burn down several buildings in her village of birth, one of which including her parents house. 
Equipment Strength: 


Can be used at mid - short range and used for close combat.

They can be used to shoot down fleeing enemies.

They can be used to break small walls and damage ships.

Equipment Weaknesses:


Water could damage the gunpowder in the gauntlets

An attack of equal force could damage some interior and exterior on the gauntlets.

If the gauntlets were to be damaged, The bullets may or may not be able to travel through the barrel of the gauntlets. If the bullets can't travel through the barrel the bullets would explode on contact with anything in the gauntlet, meaning the bullets and/or gauntlet would explode on Yangs hand.

When the gauntlets are inactive.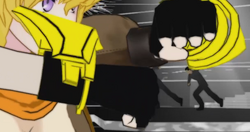 When the gauntlets are active.