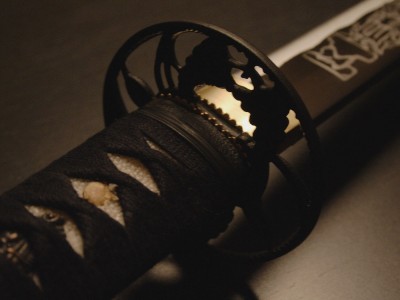 Equipment Name:
Muramasa: The Demon Blade
Equipment Level:
Divine – Level 3
Equipment Type:
Nodachi - Katana
Equipment Description:
The blade stretches five and a half feet in total: four foot for the blade and a foot and a half for the hilt. The blade is a pitch-black blade material, giving it a lethal aura about it. The blade after production was dipped into a vat of liquid sea stone, and created a Caribbean blue-green glaze when the sword shines. The hilt made of sea stone and bordered in gold. Mastery crafted to portray an orchid at the bottom of the sword.  
Equipment Significance:
It is one of the Twelve Saijo O Wazamono Grade Swords in the world, but the only cursed one of the twelve. It was a relic in the country of Wano. Its first wielder was said to be so ill-balanced and consumed by his own blood lust that when he died, his soul transferred to blades core. Cursing the blade with an uncontrollable bloodlust that all past wielders have committed suicide from the blade overwhelming lust of death. It was stored away as the islands relic until it was stolen one the night of the Wano's Massacre.
Equipment Strength:


+25 bonus to speed

Sea-stone tipped

+10 bonus to strength against darkness

Equipment Weaknesses:


-10 finesse in small, inclosed areas.

-5 finesse against smaller weapons

-5 debuff to strength against light users

Last edited by Edward D. Valentine on Wed Mar 19, 2014 5:31 pm; edited 6 times in total